Palantir Technologies (NYSE:PLTR) stock is getting a boost on Friday after announcing a new contract.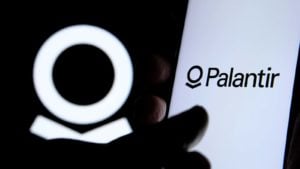 Source: Ascannio / Shutterstock.com
According to a press release, Palantir Technologies has signed a contract that will have it continue to work with the United States Special Operations Command (USSOCOM). This will have PLTR providing it with enterprise data management and an AI-enabled mission command platform.
Palantir Technologies notes that the contract has a total value of $111 million. A $52.5 million payment is made at the time of the award. The contract lasts for one year and includes the option of adding another year.
Palantir Technologies getting another contract to work with USSOCOM doesn't come as a major surprise. It's been working with the agency since 2016 to provide it with data for real-time mission operations.
Doug Philippone, the global defense lead of Palantir Technologies, had this to say about the news sending PLTR stock higher today.
"When Special Operators are risking their lives in no fail scenarios, they deserve technology that works. Our partnership with USSOCOM was one of our first in the U.S. military, and we are honored to keep providing technology that gets the job done while we partner on the future of what is possible."
PLTR stock is heaving trading of its shares following today's contract news. The company has seen more than 84 million shares change hands as of this writing. That's a nice spike over the stock's daily average trading volume of 65.9 million shares.
PLTR stock is up 2.6% as of Friday afternoon but is still down slightly since the start of the year.
There's plenty of other stock market news for investors to dive into below.
InvestorPlace makes sure to stay on top of the latest stock news with daily coverage of the market. For Friday that means looking in on what has shares of 1847 Goedeker (NYSEAMERICAN:GOED), AMC Entertainment (NYSE:AMC), and several Reddit stocks on the move today. You can get up to speed on that news at the links below.
More Friday Stock Market News
On the date of publication, William White did not have (either directly or indirectly) any positions in the securities mentioned in this article. The opinions expressed in this article are those of the writer, subject to the InvestorPlace.com Publishing Guidelines.
Source: https://investorplace.com/2021/05/pltr-stock-the-big-news-giving-palantir-shares-a-pop-today/