In July, a Committee set up by the Ministry of Finance to study issues related to virtual currencies, submitted its report.  The Committee recommended that all private cryptocurrencies should be banned in India. Skip to content On Wednesday, Iranian President Hassan Rouhani called for a mining strategy throughout the oil-rich nation of Iran. Head of the block chain initiative at RMB Farzam Ehsani says the instability of Bitcoin is expected. If you're a fan of the Showtime drama Billions, but are having a tough time following the cryptocurrency story lines, you're not alone. Here's a beginner's guide to Bitcoin, crypto-mining, and Axe's latest scheme.
Cryptocurrency is a specific type of virtual currency, which is decentralised and protected by cryptographic encryption techniques. Bitcoin, Ethereum, Ripple are a few notable examples of cryptocurrencies. Decentralisation implies that there is no central authority where records of transactions are maintained. Instead, anyone can create a transaction. This transaction data is recorded and shared across multiple distributor networks, through independent computers as shown in Figure 1. This technology is known as Distributed Ledger Technology.
Figure 1: Distributed Ledger Technology
Why has the Committee recommended banning of cryptocurrencies?
The Committee noted various regulatory concerns around virtual currencies, and cryptocurrencies in particular. These include:
Fluctuation in prices: Cryptocurrencies are subjected to market fluctuations and the lack of a centralised authority makes it difficult to regulate them. For instance, in December 2017, the value of Bitcoin cryptocurrency was around USD 20,000 per coin, which reduced to USD 3,800 per coin by November 2018. The Ministry of Finance, in a press statement, noted that the price of virtual currencies is a matter of mere speculation resulting in spurt and volatility in their prices.
Risk to consumers: The Committee also noted that there are several vulnerabilities in the design of cryptocurrencies which leave consumers open to risk of fraud. These include phishing cyber-attacks and ponzi schemes. For instance, a Rs 2,000 crore ponzi scheme was unveiled in April 2018. Further, cryptocurrency transactions are irreversible, which means once a transaction is done, there is no way to remedy it.
Impact on power consumption: The Committee also observed that cryptocurrencies can have unfavourable consequences on India's energy demand. Validating transactions in a distributed network involves high electricity consumption and requires high computation power. The Committee noted a study which estimated that 19 households in USA can be powered for one day by the electricity consumed in a single transaction of bitcoin cryptocurrency.
Potential use for criminal activity: The Financial Action Task Force, an intergovernmental organisation to combat money laundering, in its report (2014) observed that virtual currencies provide greater anonymity than traditional payment methods. This makes them more vulnerable to money-laundering and illicit funding for terror financing. The Committee noted that the decentralised nature and the anonymity which cryptocurrencies provide makes it difficult for law enforcement authorities to track down people involved in illicit activities.
Is there any country which has permitted use of cryptocurrencies?
Different countries have adopted different regulatory frameworks with respect to cryptocurrencies. Some countries have permitted the use of cryptocurrencies as a payment system while there is a complete ban on cryptocurrencies in some others. Note that no country has allowed use of any virtual currency as legal tender.
Table 1: Regulatory framework for cryptocurrencies in different countries
Country
Regulatory Framework
Canada
Permitted as a payment system and as a form of investment, income from it is taxed
Switzerland
Permitted as a payment system (including consumer to government transactions) and as a form of investment
Japan
Permitted and regulated as a payment system
China
Use of cryptocurrency is banned for all purposes
What are the present regulations in India with respect to cryptocurrencies?
In the last few years, the Reserve Bank of India (RBI) has notified the potential financial, operational, legal and security risks related to cryptocurrencies on multiple occasions (December 2013, February 2017 and December 2017). In December 2017, the Ministry of Finance issued a statement which clarified that virtual currencies are not legal tender and do not have any regulatory permission or protection in India. Further, the investors and participants dealing with them are doing so entirely at their risk and should best avoid participating. In the 2018-19 budget speech, the Finance Minister announced that the government does not consider cryptocurrencies as legal tender and will take all measures to eliminate their use in financing illegitimate activities or as a part of payment system. In April 2018, RBI notified that entities regulated by it should not deal in virtual currencies or provide services for facilitating any person or entity in dealing with or settling virtual currencies.
How does the draft Bill proposed by the Committee change these regulations?
Currently, only the entities regulated by the central bank are prohibited from dealing in, or providing services for dealing in virtual currencies. The draft Bill prohibits any form of mining (creating cryptocurrency), issuing, buying, holding, selling or dealing in cryptocurrency in the country. Further, it provides that cryptocurrency should not be used as legal tender or currency in India. The Bill allows for the use of technology or processes underlying cryptocurrency for the purpose of experiment, research or teaching.
The Bill also provides for offences and punishments for the contravention of its provisions. For instance, it states that mining, holding, selling, issuing or using cryptocurrency is punishable with a fine, or imprisonment up to 10 years, or both. For individuals who might be in possession of cryptocurrencies, the Bill provides for a transition period of 90 days from the commencement of the Act, during which a person may dispose of any cryptocurrency in their possession, as per the notified rules.
Are there any areas where the Committee recommended use of cryptocurrencies?
According to the Committee, while cryptocurrencies or virtual currencies do not offer any advantages, the underlying technology behind them (Distributed Ledger Technology, DLT) has many potential applications, both in finance and non-finance sectors. Some of these are listed in Table 2. The Committee observed that DLT makes it easier to identify duplicate transactions, and therefore can be utilised for fraud-detection, processing KYC requirements, and claim management for insurance. Further, it can be helpful for removing errors and frauds in land markets, if used for maintaining land records. The Committee was also of the view that the idea of an official digital currency in India can be explored further, and that the government may setup a group to examine and develop an appropriate model of digital currency in India.
Table 2: Applications of Distributed Ledger Technology
Sector
Possible uses of DLT
Payments
Faster and cheaper cross-border payments
Reduced transaction cost for micro-payments
Identification
Storing personal records such as birth, marriage or death certificates
Removing duplicates in identification platforms such as KYC
Insurance
Fraud detection and risk prevention
Claims prevention and management
Ownership registries
Removing errors and frauds in land markets
Administrative ease of maintaining land records
Trade Financing
Reduced operational complexity and transaction costs
Source: www.prsindia.org
Digital currency plan made in China – Civilsdaily
From UPSC perspective, the following things are important :
Prelims level : BIS, cryptocurrency.
Mains level : Paper 3- Challenges and opportunity in cryptocurrencies.
In December 2019, a pilot programme was launched in Beijing to intensively advance the trial work of fintech innovation regulation.
This pilot has now been expanded to include several other cities.
This expansion of the pilot marks the initiation of China's central bank digital currency (CBDC).
Christened Digital Currency Electronic Payment (DCEP), available via a mobile wallet app.
It is pegged 1:1 with fiat currency, and designed to replace M0 which comprises currency issued by the PBoC less the amount held by banking institutions.
This is the first such serious initiative in the whole world.
Historically, monetary authorities everywhere have been sceptical of cryptocurrencies.
The reasons for scepticism includes following problems-
1) Wild fluctuations in the value of cryptocurrencies.
2) The implied challenge to the monopoly of central banks in issuing fiat currencies.
3) The looming possibility of software bugs.
4) The tainted shadow of the dark web.
Authorities were far more intrigued by CBDCs.
In fact, the Basel-based Bank for International Settlement (BIS) has been conducting surveys on this issue for some time.
The recent survey of 2019 "Proceeding with Caution – a Survey on Central Bank Digital Currency" revealed that while in general, central banks have been proceeding cautiously towards introducing central banks digital currencies.
Some have been planning to issue a fiat digital currency in the short to medium term.
In particular, the survey revealed that nearly 25% of central banks have the required authority to issue a CBDC, while a third do not, and 40% remain unsure.
So, what factors led China to release the cryptocurrency?
Chinese investors were always attracted to cryptocurrencies.
With the bearish turn in the Chinese stock market in 2015-16, bitcoins became increasingly popular as an alternative asset class in China.
As in media reports, in the recent past, China has emerged as the capital of the crypto ecosystem, accounting for nearly 90% of trading volumes and hosting two-thirds of bitcoin mining operations.
The PBoC tried hard to curtail this exuberance but achieved limited success.
The recent move to introduce the CBDC in China is a logical outcome of the efforts to curb and tackle its runaway cryptomarket practices.
Or, the philosophy of the PBoC could simply have been, if you cannot beat them, join them.
At a practical level, the benefits of CBDC are manifold.
First, paper money comes with high handling charges and eats up 1% to 2% of GDP.
Second, by acting as a powerful antidote for tax evasion, money laundering and terror financing, CBDCs can materially boost tax revenues while also improving financial compliance and national security.
Third, as a tool of financial inclusion, particularly in emergencies, direct benefit transfers can be instantly delivered by state authorities deep into rural areas, directly into the mobile wallets of citizens who need them.
Fourth, CBDCs can provide central banks with an uncluttered view and powerful insights into purchasing patterns at the citizen scale.
In the long run, it is believed that CBDCs will make cross-border payments fast and frictionless.
All these salutary benefits come packaged with a deep and abiding concern about the relentless rise of a surveillance state and the concomitant erosion in citizen privacy and anonymity.
If face-recognition technology enables states to spy on the physical movement of citizens, will CBDCs be used to spy on every movement of their money?
An earlier research paper by PBoC Deputy Governor favoured a two-tier CBDC model.
In this model instead of directly interacting with the public, the central bank would involve financial intermediaries such as commercial banks.
In tier 1, the central bank would interface with financial intermediaries.
In tier 2, the financial intermediaries would interface with the general public.
Advantage? Such a model is accretive in that it preserves the power of existing financial systems and extends their influence further.
It is believed that the DCEP uses a DLT architecture (with central controls) which preserves the primacy of the monetary authority, unlike private cryptocurrencies such as Bitcoin (BTC) and Ethereum (ETH) that are truly decentralised.
What may China be signalling with the launch of DCEP?
First, on the world economic stage, it may want DCEP to challenge the hegemony of the U.S. dollar as the default global reserve currency.
Second, in its war with American BigTech, it may want to showcase DCEP as its weapon of choice to counter FB or Facebook's Libra, which is planning to offer a common cryptocurrency to 2 billion-plus FB users across the world.
Third, and still in the realm of speculation, it may wish to use the DCEP to clip the wings of AliPay and WeChatPay, gigantic fintech duopolies that control 90% of the China's domestic digital payments, and whose ambitions may one day pose a threat to the aura and authority of the central bank.
Consider the question "Most of the central banks have been sceptical in their attitude toward the cryptocurrencies. Yet, they persisted. Next came the Supreme Court decision lifting ban on them. In light of this, examine the advantages and concerns that come with the cryptocurrencies."
From gold to silver to paper to digital, the march of currencies goes on. China has rolled the dice on central bank digital currencies, challenging other nations to follow. Welcome to the future of money.
Source: www.civilsdaily.com
Iranian President Calls for Launching a Cryptocurrency Mining Strategy | Mining Bitcoin News
Iranian President Hassan Rouhani has called for a mining strategy throughout the oil-rich nation. The latest statements from the Iranian President follows Iran's moves to restrict specific crypto trading platforms over "currency smuggling" mandates.
On May 20, 2020, Iran's President Hassan Rouhani told the press that the country needs to spur a cryptocurrency mining strategy, in order for the country to prosper economically amid U.S. sanctions. Reports stemming from the regional news outlet Arzdigital which claims Rouhani has told his administration to start drafting a crypto mining strategy for Iran as soon as possible.
Rouhani said that the energy department, the country's central bank, and the finance minister need to devise a new scheme that welcomes bitcoin miners. This includes Iranian regulatory policy toward mining farms located in the country and taxes.
Iran recently recognized cryptocurrency mining operations as an official industry last year. Iranian officials have already been issuing licenses to farms that are willing to cooperate with the Iranian governments.
In January 2020 it was reported that the Iranian lawmakers licensed over 1,000 mining operations in the country. In the summer months of 2019, Iran represented 2% of the Bitcoin network's entire global hashrate. Since then however, recent migration has made it so Iran now has 4% of the total hashrate according to statistics.
Rouhani's statements are a bit confusing after the Iranian government made it harder for international crypto exchanges to operate in collaboration with the country. This week the Iranian parliament released a proposal that aims to curb "currency smuggling" by heightening regulations for international crypto exchanges. Essentially, the Iranian parliament wants the exchanges that are based in Iran licensed and they are required to follow currency smuggling mandates.
Speculators assume that Iran is trying to keep funds from being spent abroad and wants to squash capital outflow by putting pressure on Iranian crypto exchanges for working with international operations. Iran, despite the fact that it is heavily sanctioned by the U.S. is prospering because of cryptocurrency innovation and encouraging the mining industry to migrate to the region.
Data shows that mining farms in Iran are paying as little as $0.01 to 0.05 for hourly kilowatt rates. However, during certain times of the year, the Iranian government has said that electrical rates could shift for mining operations when electricity demand is high.
What do you think about President Hassan Rouhani's statements about encouraging an Iranian mining strategy? Let us know in the comments below.
Bitcoin, Bitcoin mining, BTC, Cryptocurrency, cryptocurrency mining, Digital Assets, Hassan Rouhani, Iran, Iranian President, Miners, mining, Mining Operations
Purchase Bitcoin without visiting a cryptocurrency exchange. Buy BTC and BCH here.
Disclaimer: This article is for informational purposes only. It is not a direct offer or solicitation of an offer to buy or sell, or a recommendation or endorsement of any products, services, or companies. Bitcoin.com does not provide investment, tax, legal, or accounting advice. Neither the company nor the author is responsible, directly or indirectly, for any damage or loss caused or alleged to be caused by or in connection with the use of or reliance on any content, goods or services mentioned in this article.
Read disclaimer
Source: news.bitcoin.com
Author: Mining by Jamie Redman
[LISTEN] Advice on Bitcoin and cryptocurrencies
Head of the block chain initiative at RMB Farzam Ehsani says the instability of Bitcoin is expected.
Head of the blockchain initiative at RMB Farzam Ehsani says Bitcoin has been very unstable and volatile but that's been its story since the beginning.
Speaking to Ray White on the Midday report, Ehsani says in the last six months there has been a craze where people have been getting into Bitcoin and other crypto currencies in order to get rich quick and nothing like that exists.
It is a new asset class that people should pay attention to and while its very risky; if i have any advice to people is buy it to experiment and see what it is, and buy enough that will make you pay attention but not so much that will impact you if you lose it.
Ehsani warns that Bitcoin is volatile and will continue to be volatile but it doesn't change the potential it has to change the financial system in other industries.
Listen to why bitcoin has faced some up's and downs.
Source: www.702.co.za
What to Know About Billions' Cryptocurrency Drama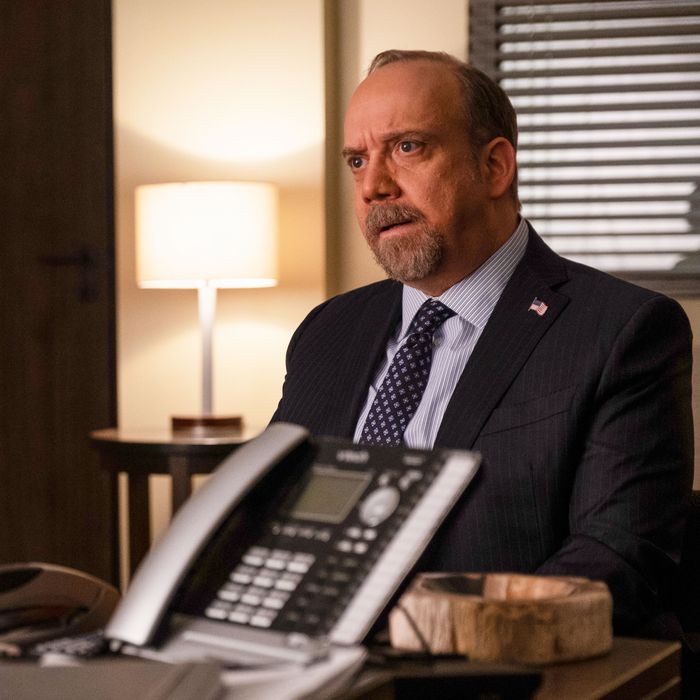 If you're a fan of the Showtime drama Billions but having a tough time following the current season's cryptocurrency story lines, you're not alone. Not only do the actors have trouble keeping up with the series' twists and turns, even those who work in the financial sector don't necessarily understand crypto mining, a subject that pops up several times in season five. "Half the people in finance couldn't explain what mining is to you," says New York Times best-selling author Ben Mezrich, who joined the Billions writers' room this season as a consulting producer. "A large percentage of them have no idea, because it's complex."
As the writer of Bitcoin Billionaires and The Accidental Billionaires: The Founding of Facebook: A Tale of Sex, Money, Genius and Betrayal — the latter of which was adapted into the movie The Social Network — Mezrich is a natural fit for the Billions team. His expert knowledge of cryptocurrency has provided the series with an opportunity to further explore this once-dark, underground area of finance. He also wrote this season's third episode, which has Gordie Axelrod (Jack Gore), son of billionaire Bobby "Axe" Axelrod (Damian Lewis), running his own crypto-mining operation.
From the safety of his home in Quechee, Vermont, where he's riding out the COVID-19 pandemic, Mezrich was kind enough to guide Vulture through the intricacies of these esoteric plotlines. The result is this useful explainer for those of us who love Billions, but are still lost when characters like Axe and Chuck Rhoades (Paul Giamatti) start talking Bitcoin and blockchain.
It's a form of electronic money that sparked interest in recent years due to its skyrocketing prices. "It's money that goes instantly from one person to the other, and there's no middleman," says Mezrich. A can be sent from person-to-person via their phone, just like a text.
The most well-known example of cryptocurrency is Bitcoin, which was created in 2009. "But there's almost an infinite amount of cryptos at this point," says Mezrich.
This is the process of how the money is transferred from person-to-person. Because cryptocurrency doesn't use banks, miners are the ones who verify each transaction. "Say I send you a Bitcoin," says Mezrich. "The way that transaction is verified is, miners are working on computers attached to the network, which are doing these mathematical equations. And these equations, when they're solved, they verify our transaction, and as a reward, the miner gets a certain amount of Bitcoin."
The process is very much like a contest, because all these different miners are competing to solve the equation, with the "winner" getting the Bitcoin. Mezrich likens mining to the race for the golden ticket in Charlie and the Chocolate Factory: "You open all these wrappers and one of them is gonna have a piece of gold in it. But you don't know which one, and so you're incentivized to get all the [chocolate bars] you can. This is what these miners are doing: They're just continually trying to solve these equations. Because whoever solves it first, gets the golden ticket — the Bitcoin."
You probably remember this term being bandied about by Chuck last season regarding mobile voting. A blockchain is "a digital database containing information that can be simultaneously used and shared within a large, decentralized, publicly accessible network," according to Merriam-Webster.
Because it's where all crypto transactions are logged. "If I send you one Bitcoin," says Mezrich, "that transaction is logged onto the blockchain. And the way it becomes verified is by these miners. They're the ones who essentially put these equations onto the blockchain."
Those guys are miners, and they were dealing with the aforementioned mathematical equations, which are not only very complicated, but require "enormous amounts of computing power," says Mezrich. "If you walk into a crypto mine, it's computer after computer after computer" — not unlike what was inside the sketchy warehouse that served as the miners' base in the episode.
The miners were drawing power from a town in upstate New York, which is where the legal issue comes into play. "The problem is, if you're mining Bitcoin and you need to draw tons and tons of power, eventually, that cost can be more than what you're earning," explains Mezrich. "So miners are always trying to find cheaper electricity." Enter the small town in question: The town gave the miners priority over their electrical power. "By doing that, the miners are saving a lot of money, and they make a kickback deal with the town to get cheap electricity, but the way they get the cheap electricity is it's being routed to them rather than the rest of the town, causing brownouts."
Axe is involved because he's the leader of a consortium that combined its resources to fund this operation. "In the general scheme of things, it's not a bring-down-Axe crime, but it's certainly a way in [for Chuck]," says Mezrich. So for now, there isn't enough evidence connecting him to this venture for Chuck to take legal action — yet.
Instead of just mining Bitcoin, Gordie was mining a lot of different cryptos at once out of his prep-school basement. The way Axe describes his son's scheme to Wags (David Costabile) — "It's the smart way to do the stupid thing he was doing" — isn't much different from how Mezrich explains it. With multi-mining, "you have a better chance of making money and you have less of a chance of getting caught," because you're hacking electricity on a smaller scale.
"He was trying to pull down enough electricity to power a whole bank of crypto mines — a bunch of computers to run all these calculations," says Mezrich. "In so doing, he ended up short-circuiting and causing a massive power-grid failure."
Mezrich admits that Billions took a bit of dramatic license here.
He absolutely committed a crime by tapping into his school's (and the town's) power grid. "If he had had his own power source, if he was just working at home with that, it wouldn't be illegal," says Mezrich. As for the actual crypto mining, Mezrich used Gordie's tradition-bound prep-school headmaster as a stand-in for those who still see Bitcoin and other cryptocurrencies as the "dirty" part of the finance world. "The mainstream has still not accepted it," he says. "The headmaster would be one of the types who sees [Gordie's behavior] as an affront to the men of honor that these kids are supposed to become."
Source: www.vulture.com
Author: Sarene Leeds