AUDUSD0.6468
0.8419
SPI 2005527.00
43.00 (0.78%)
S&P/ASX 2005460.50
55.69 (1.03%)
All Ords5557.50
64.67 (1.18%)
Dow Jones23685.42
60.08 (0.25%)
Nikkei20133.73
96.26 (0.48%)
Hang Seng23934.77
137.30 (0.58%)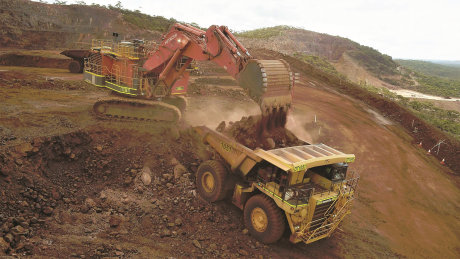 A 13 per cent rally in Australia's most important export commodity has further to run, helping to kick-start the nation's economy.
Iron ore futures hit record as virus hits Brazil supply
China flags more foreign investment as trade tensions flare

Australian barley growers have become collateral damage in the increasing tensions between Canberra and Beijing.
Former senior public servant and corporate leader Jane Halton says there will be a "stampede" for a coronavirus vaccine.
The decision by Premier Gladys Berejiklian will be the state's biggest step towards normalisation of life since the pandemic began and affect 800,000 children and teenagers.
Live
Coronavirus pandemic
Plus public schools go back in NSW and there are warnings of the threat from "vaccine nationalism". Follow our live coronavirus blog here.
China has warned it will take action against the United States over restrictions on tech giant Huawai as trade hostilities with Washington and Canberra escalate.
The Industrial Relations Minister says the bargaining system has to get back to its original aim of designing terms and conditions specific to a workplace and advancing productivity.
How the coronavirus is changing markets, business and politics.
Coronavirus: Need to know. Our daily reporting, in your inbox.
How to create a 'mini UBS', Grounds style
Village people: three banks, two law firms, one boutique in BGH/VRL deal

9.33pm
Musical chairs: PE prepare first round bids for retailer SoundBay

9.32pm

Meet the Wall Street legend now fighting for Virgin
How AI could help tell Virgin bidders from pretenders
Australia's next tech unicorn

A parting gift from Boral's Mike Kane?
Cellmid hanging on TGA approval, like we said
Tanning tycoon Blair James leases Lamborghini

Advertisement

The coronavirus pandemic is dominating global markets, business and politics. Here's our daily take on the most important stories, and some things to watch out for.

The COVID-19 recovery team has developed a planning tool for firms to comply with changing operational environment.

A leading COVID-19 expert has warned of the risks of pre-symptomatic cases as McDonald's Australia shuts 12 restaurants.

A sample of 500 people will fly from San Francisco to the Taiwanese capital in a trial conducted in co-operation with Stanford University.

Some businesses are staying away still, but others are adopting innovative strategies to prevent infection spreading.

NSW Transport Minister Andrew Constance has warned that traffic congestion will return as the state restricts how many people can get on buses, trains and ferries.

Opinion
Coronavirus pandemic

A cold turkey ending to JobKeeper and JobSeeker would mean a double-dip recession. But that is a risk that the government can avoid.

BGH Capital is in takeover talks with Village Roadshow for up to $468.5 million, ending months of speculation.

"The strategic review will consider all options and nothing can be ruled out," said Westpac's new CEO of specialist businesses, Jason Yetton.

The engineering group's liquidation of its New Zealand assets is not going smoothly, with one creditor demanding the liquidators be replaced.

The Australian Finance Industry Association will talk to consumer groups to tighten a code of conduct including looking at more prescriptive fee caps and suitability assessments.

Rio Tinto has been surprised by a new Mongolian government plan to build a state-owned power station for the Oyu Tolgoi mine.

Shares in Australia's iron ore miners have surged as supply and demand factors push prices for the base metal sharply higher.

The Australian sharemarket closed higher for a second straight day, buoyed by the resources sector and stronger gold and iron ore prices.

The Australian sharemarket notches up second day of gains paced by big miners as iron ore rallies above $US90 a tonne. Elders at decade high. Gold miner Saracen hits record.

Portfolio manager Bill Pridham named multiple global companies he expects to be big winners from the structural shift to 5G technology.

Professional investors remain divided on whether Afterpay can go far higher from here or is primed to crash back to earth.

Hot-desking was supposed to encourage a productive corporate culture. Its death at the hands of COVID-19 only raises more questions about the office of the future.

Jennifer Hewett

Columnist

Stephen Freidheim made a fortune alongside Richard Branson in Virgin America. Since then his firm has tried to repeat the trick, with mixed success.

Chanticleer

Columnist

A principles-based approach means that everybody owns workplace safety. Could we do the same for productivity as well?

Peter Richards

Contributor

Toll Group, BlueScope and Service NSW have all fallen victim to cyber criminals in recent days. The government and industry need to sharpen their response.

Alastair MacGibbon

Contributor

Economic activity has fallen off a cliff and the jobless rate has spiked. So why are bankers quietly confident they'll avoid the bad debt blowout they suffered in the early 1990s recession?

Karen Maley

Columnist

The tech industry might seem unstoppable in the coronavirus crisis, but ultimately it will be curbed.

Rana Foroohar

Contributor

Advertisement

The Industrial Relations Minister says the bargaining system has to get back to its original aim of designing terms and conditions specific to a workplace and advancing productivity.

China's Commerce Ministry will decide on Tuesday whether to slap tariffs on Australia barley amid tensions between Canberra and Beijing over a potential COVID-19 inquiry.

China's growing trade aggression is making the nation's biggest export market increasingly risky for Australian businesses, the Morrison government has warned.

Victoria aims to repair its spluttering economy by mending school buildings, social housing units, roads and train stations.

A Greens plan to rebuild the economy includes 500,000 new public housing properties and guaranteeing anyone under 30 a job, training place or free higher education.

China's top coronavirus expert fears a second outbreak as new clusters emerge around the country.

The resentment of Americans unable to comfortably shelter from COVID-19 can put Donald Trump back in the White House.

The President continues to flout social distancing guidelines as Brazil fights the world's fourth-largest outbreak of COVID-19 with a death toll exceeding 16,000.

Japan's economy contracted at an annualised rate of 3.4 per cent in January-March, marking the first recession since the second half of 2015.

Some 40 per cent of Americans said they won't buy products from China, according to a survey by Washington-based FTI Consulting.

A hairdressing tenant eyeing future development has secured space in a popular Melbourne precinct.

The volume of deal flow dwindled by 47 per cent to $2.16 billion year on year over the first quarter in the Australian market.

Canberra is set to be the only CBD office market to record positive rental growth in 2020, while other cities come under the economic strain of COVID-19.

Guy Farrands will lead ALE through one of its most challenging periods as the hospitality sector slowly emerges from its post-COVID-19 hibernation.

The two sites front White Heart Drive on the eastern edge of the $680 million shopping district owned by GPT and have the capacity for 110 apartments.

Advertisement

Opinion
Coronavirus pandemic

With a recovery in the second half pencilled in, the key question is how quickly and strongly it takes hold.

If you don't need the cash, reduce your withdrawals or even think about moving funds back to accumulation phase to preserve your savings.

With fund manager Janus Henderson tipping worldwide payouts to decline by $500 billion, investors need to wake up to diversification and yield overseas.

CSIRO's Main Sequence Ventures fund has invested $4 million in Presien, a tech company that began as a project inside Laing O'Rourke to test AI vision.

The neobank will instead pursue a $15 million rights issue to its existing investors, which it says is going well.

Since the start of the year, the Amazon boss's net wealth has spurted by $US28 billion, equal to the GDP of Honduras.

More than 180 staff have taken voluntary redundancies at Central Queensland University as part of a $28 million annual savings push.

As COVID-19 restrictions loosen up and some employees prepare to return to the workplace, one company has redesigned its offices.

Advertisement

If the office were to become a casualty of the virus, we will mourn the one place that gave us routine, structure, friends and a refuge in times of trouble.

The luxury car maker's latest coupe, the limited edition LC 500, lands with new colours and a superb ambience.

'The Ladies Village Improvement Society Cookbook: Eating and Entertaining in East Hampton' is broken up into entertaining menus such as 'Lunch around the Pool'.

Binge will enter the market on May 25 after Foxtel renewed its crucial contract for HBO content, which included shows such as Game of Thrones and Succession.

Whether you're caring for an isolated parent – or just worried about your own chances of being found alive after a fall – this new monitoring system could help.

Virgin Australia's fantastic four, shortlist confirmed
ASX rallies; Fortescue soars above $13
Tesla's new batteries set to make EVs as cheap as petrol cars
China dangles carrot over free-trade deal
Hostplus warned of liquidity 'perfect storm'
Tanning tycoon Blair James leases Lamborghini

May 18, 2020

The 'outsider' steering the MCA through the crisis
Australia rides towards cycling redemption

ANZ bids good riddance to bureaucracy
IR overhaul needed to stop underpayments: Wesfarmers chairman

Keeping an eye on the elderly? Leave it to the sensors
How Carla Zampatti has survived 55 years in fashion

Why gallery owner Gene Sherman is in love with Japan

Source: www.afr.com

Finance

© 2020 CNBC LLC. All Rights Reserved. A Division of NBCUniversal

Data is a real-time snapshot *Data is delayed at least 15 minutes. Global Business and Financial News, Stock Quotes, and Market Data and Analysis.

Market Data Terms of Use and Disclaimers

Source: www.cnbc.com

Author: Peter Schacknow

O'Neil Global Advisors and Affiliates Launch Innovative Investment Funds

Source: www.businesswire.com

Investment – Best Investment Options | Latest Investments News | Investment Tips – Moneycontrol

MF
Indices
Portfolio
News Feed

L&T Triple Ace Bond -Direct (G)

DSP Government Securities – DP (G)

IDFC Dynamic Bond-Regular Plan (G)

DSP Strategic Bond Fund – IP (G)

DSP Strategic Bond Fund – Direct (G)

Coronavirus impact | IndiGo has cut salaries, do you think other companies will follow suit?

Thank you for voting! Post your comments

Coronavirus impact | IndiGo has cut salaries, do you think other companies will follow suit?

Thank you for voting! Post your comments

Source: www.moneycontrol.com

Equinor, Shell and Total make major CCS investment

Equinor, Shell and Total have announced plans to invest almost $6.9bn in the Northern Lights project in Norway's first exploitation licence for CO2 storage on the Norwegian Continental Shell.

The investment decision would conclude the study phase during which Equinor, Shell and Total worked closely with Norwegian authorities to conduct engineering studies and project planning, drill a confirmation well and develop the necessary agreements.

Anders Opedal, Executive Vice-President for Technology, Projects & Drilling at Equinor, said, "The Northern Lights project could become the first step to develop a value chain for carbon capture and storage (CCS) which is vital to reach the global climate goals of the Paris Agreement."

"The unique project opens for decarbonisation of industries with limited opportunities for CO2-reductions. It can be the first CO2 storage for Norwegian and European industries and can support goals to reduce net greenhouse gas emissions to zero by 2050."

The investment decision is subject to final investment decision by Norwegian authorities and approval from the EFTA Surveillance Authority (ESA).

About the Northern Lights project

The Northern Lights project will be developed in phases. Phase 1 includes capacity to transport, inject and store up to 1.5 million tonnes of CO2 per year.

Once the CO2 is captured onshore by industrial CO2-emitters, Northern lights will be responsible for transport by ships, injection and permanent storage some 2,500 metres below the seabed.

The CO2 receiving terminal will be located at the premises of Naturgassparken industrial area in the municipality of Øygarden in Western Norway.

The plant will be remotely operated from Equinor's facilities at the Sture terminal in Øygarden and the subsea facilities from Oseberg A platform in the North Sea.

The facility will allow for further phases to expand capacity. Investments in subsequent phases will be triggered by market demand from large CO2 emitters across Europe.

If the project receives a positive final investment decision from the Norwegian Government in 2020, Phase 1 is expected to be operational in 2024.

Source: www.gasworld.com

COVID-19 vaccine secures new government investment

Imperial researchers have received a further £18.5 million in government support as they develop a coronavirus vaccine.

Professor Robin Shattock's team will use the funding to launch phase three clinical trials of their promising new COVID-19 vaccine later this year.

Professor Shattock's vaccine will begin human trials in June, having been tested with animals since early February.

When injected, the self-amplifying RNA vaccine delivers genetic instructions to muscle cells to make the 'spike' protein on the surface of the coronavirus. This provokes an immune response to create immunity to COVID-19.

The new £18.5 million investment for phase three trials at Imperial was announced by Business Secretary Alok Sharma alongside a £65.5 million new investment in University of Oxford vaccine trials, which Imperial researchers are also supporting.

It follows £22.5 million of UK government support for phase two trials, announced by Health Secretary Matt Hancock in April.

Philanthropists are also vital to the vaccine race at Imperial, providing millions of pounds in support to date.

Professor Robin Shattock, Head of Mucosal Infection and Immunity at Imperial College London, said: "This funding will greatly accelerate our efforts to demonstrate the effectiveness of our vaccine and make it available to at risk populations as rapidly as possible. Access to such support allows us to move at unprecedented speed."

Professor Alice Gast, President of Imperial College London, said: "Support from government, philanthropists and the British public is making an enormous difference as our scientists urgently develop their promising vaccine for COVID-19. Professor Robin Shattock's team is making extraordinary progress as they prepare to enter human trials. We are grateful to the government and public for their indispensable contributions."

Business Secretary Alok Sharma MP said: "I am very proud of how quickly our world-leading scientists and researchers have come together in their efforts to develop a vaccine that will combat coronavirus. Their work has meant that the world's two front-runners to develop a vaccine are right here in the UK – at the University of Oxford and Imperial College London.

"The support we're providing to the UK's most promising vaccine projects underlines the government's aim to rapidly accelerate vaccine development and ensure that any successful vaccine is made available in the millions as soon as possible."

The latest funding for the Imperial and Oxford vaccines was allocated by the UK's Vaccines Taskforce, chaired by Kate Bingham and established by the Chief Scientific Adviser, Deputy Chief Medical Officer, Business Secretary and the Health Secretary.

The Taskforce is supporting efforts to rapidly develop a coronavirus vaccine as soon as possible by providing industry and research institutions with the resources and support needed. This includes reviewing regulations and scaling up manufacturing so that when a vaccine becomes available, it can be produced quickly and in mass quantities.

Researchers are screening participants for the trial of Professor Shattock's vaccine, and aim to begin clinical trials in June at the NIHR Imperial Clinical Research Facility.

Members of the public can register their interest by signing up via the NIHR Imperial CRF Healthy Volunteers database.

Article text (excluding photos or graphics) © Imperial College London.

Photos and graphics subject to third party copyright used with permission or © Imperial College London.

Source: www.imperial.ac.uk

Author: by
Andrew Scheuber

17 May 2020